Armytek Prime C2 Magnet USB White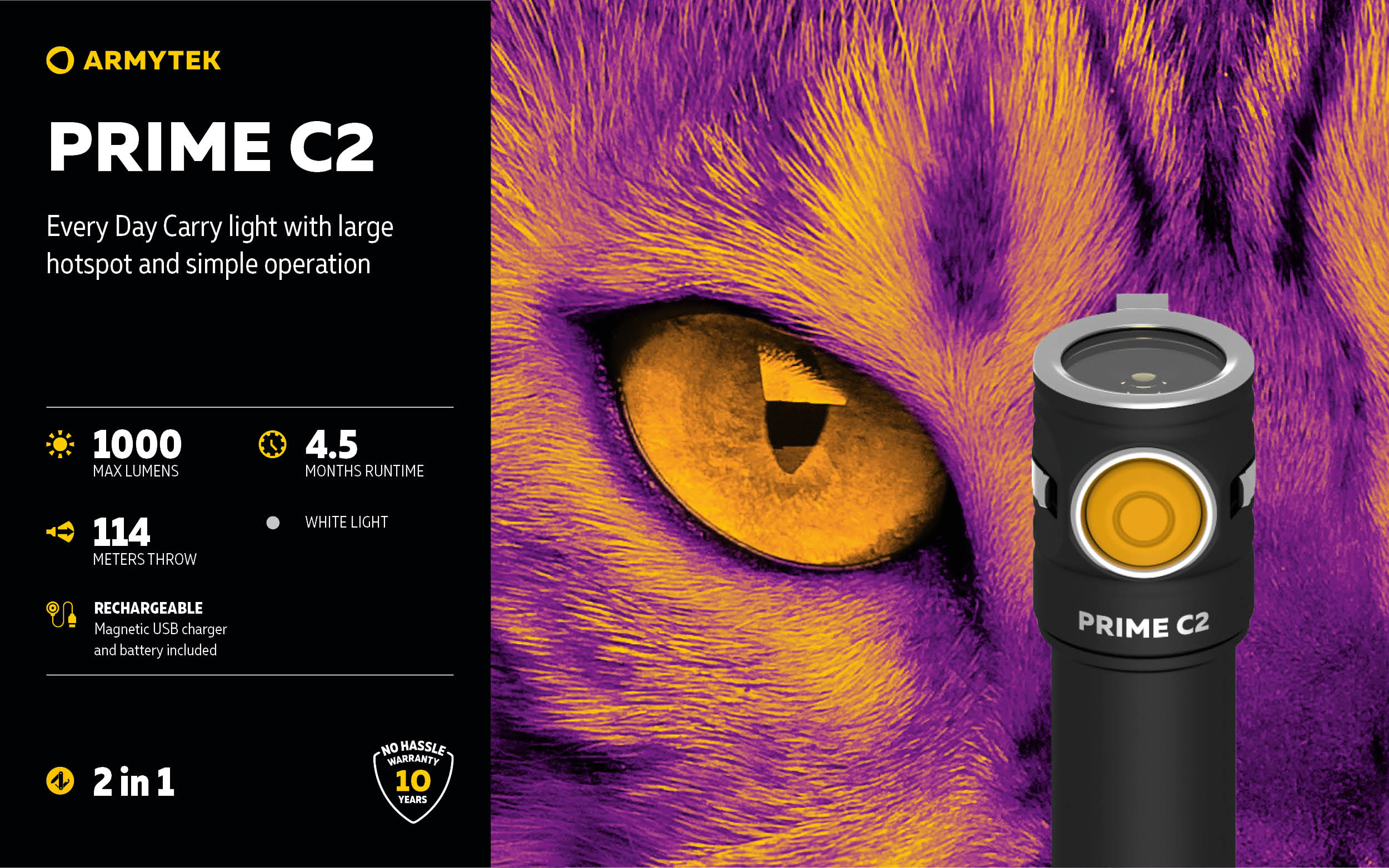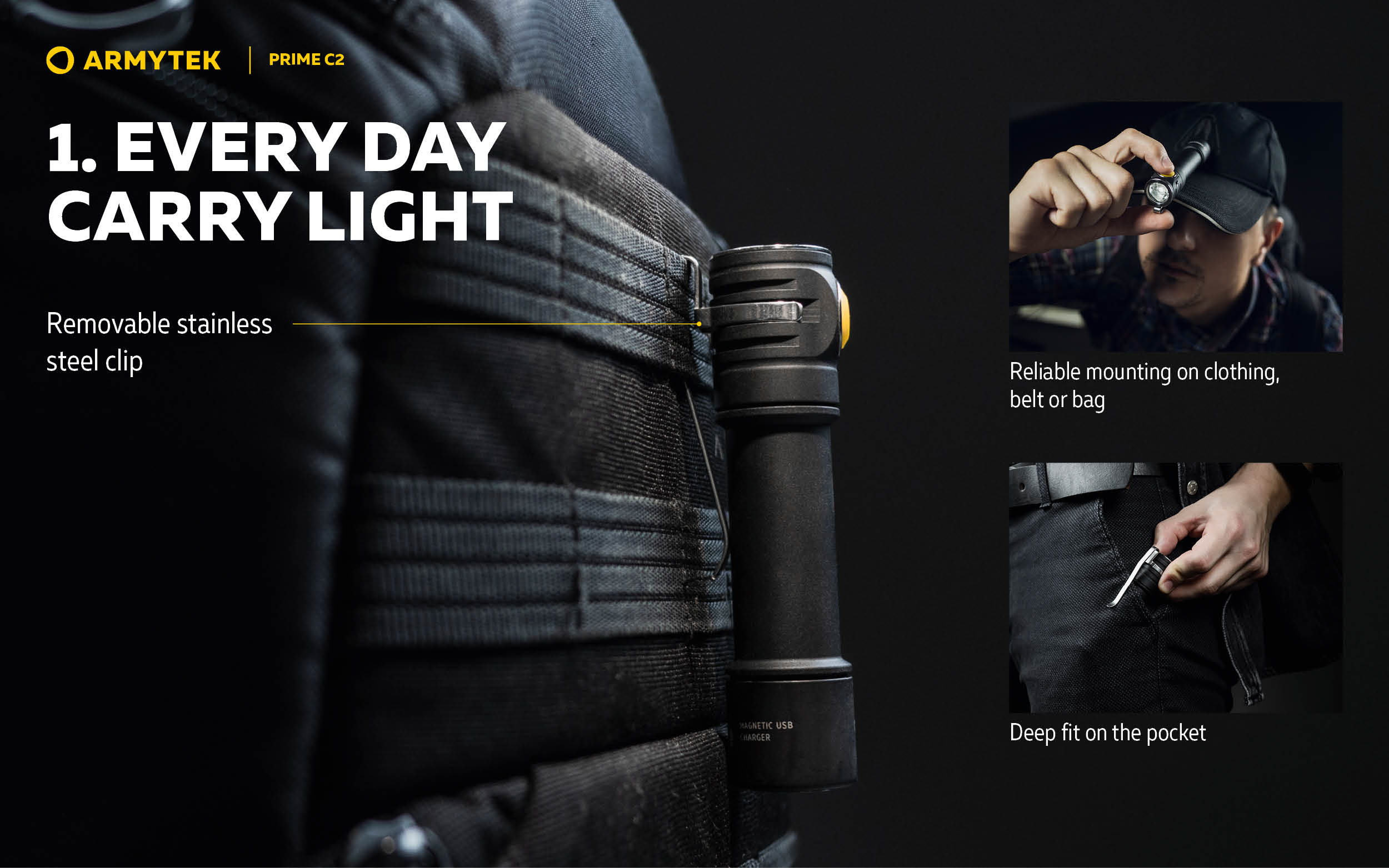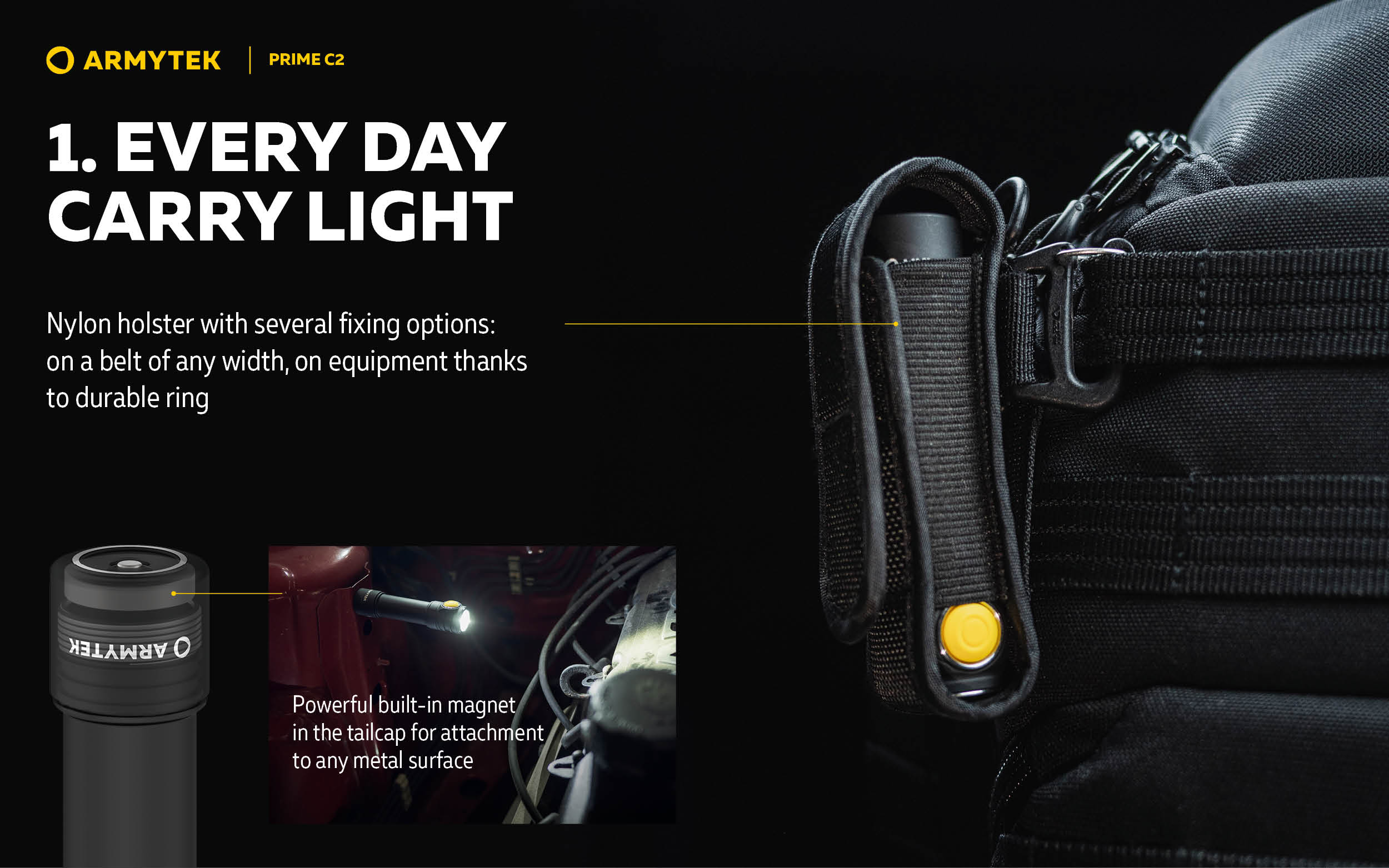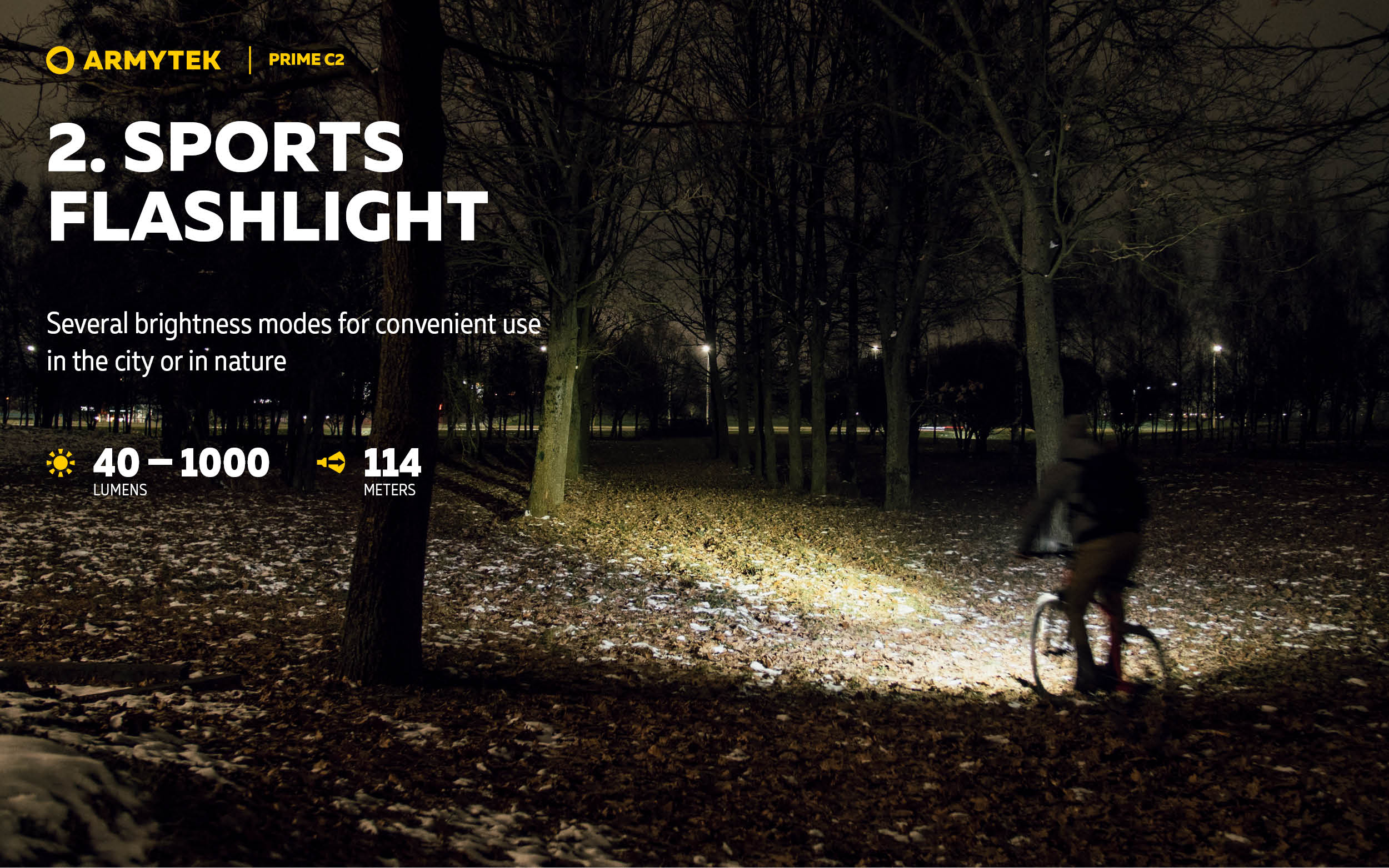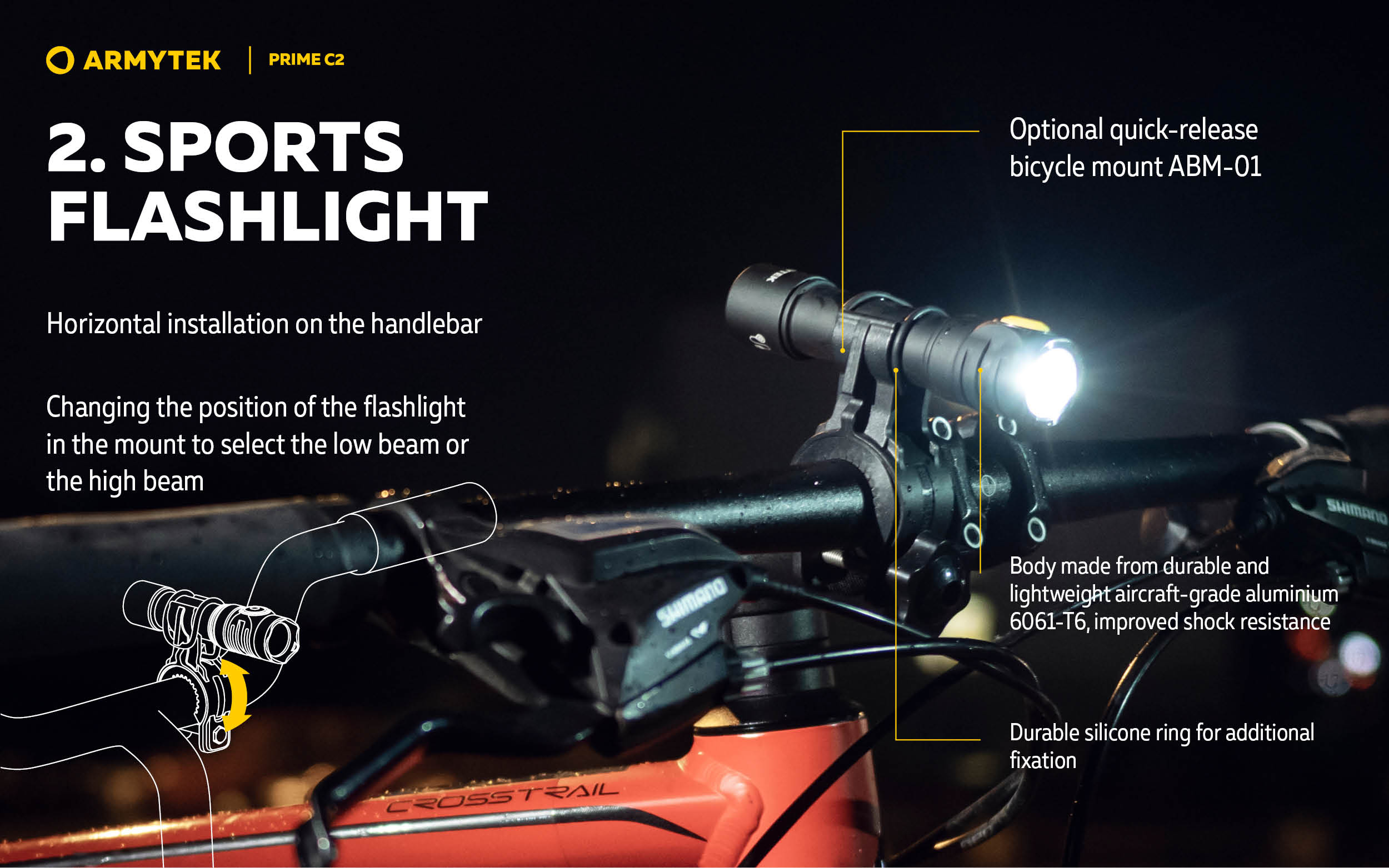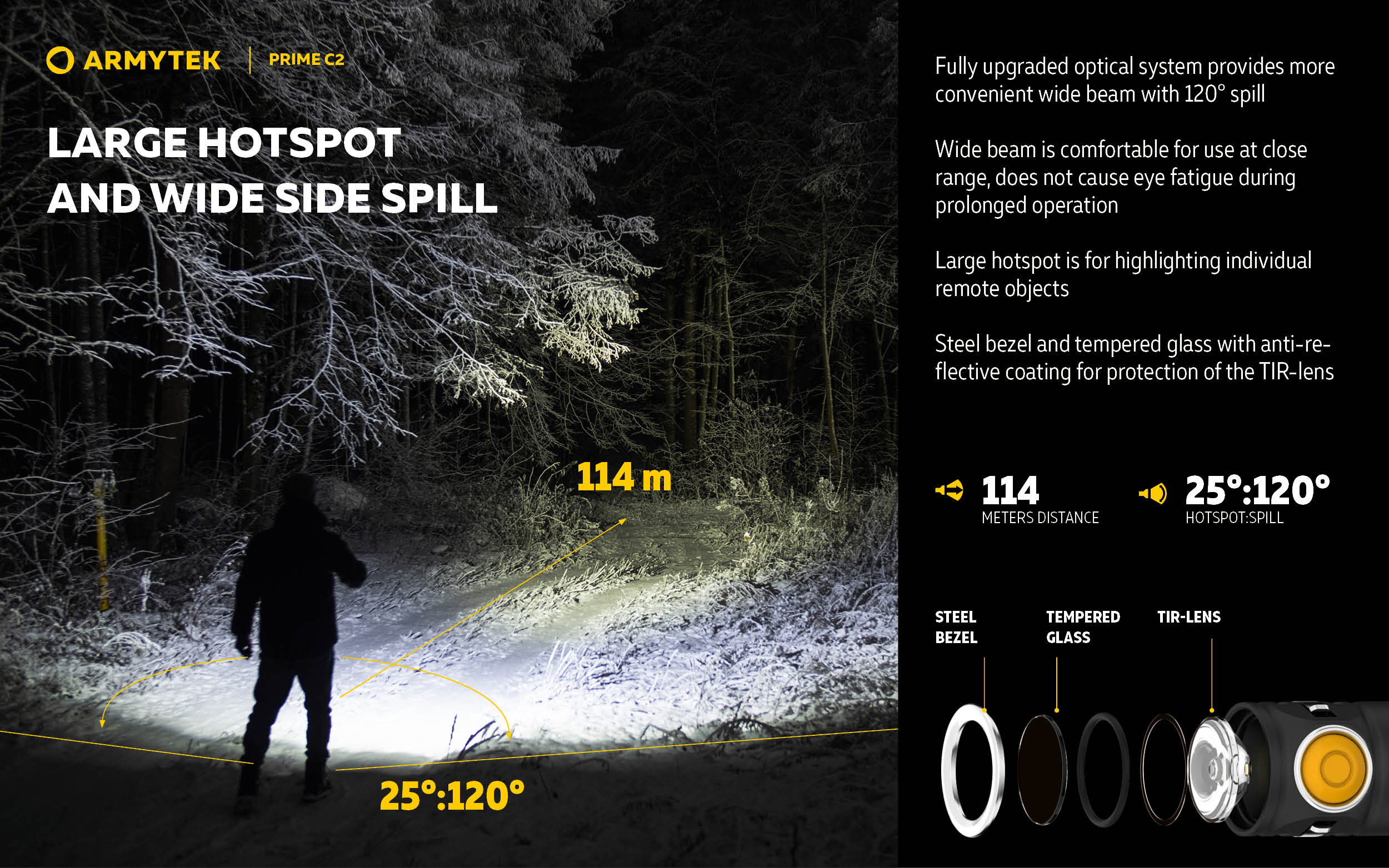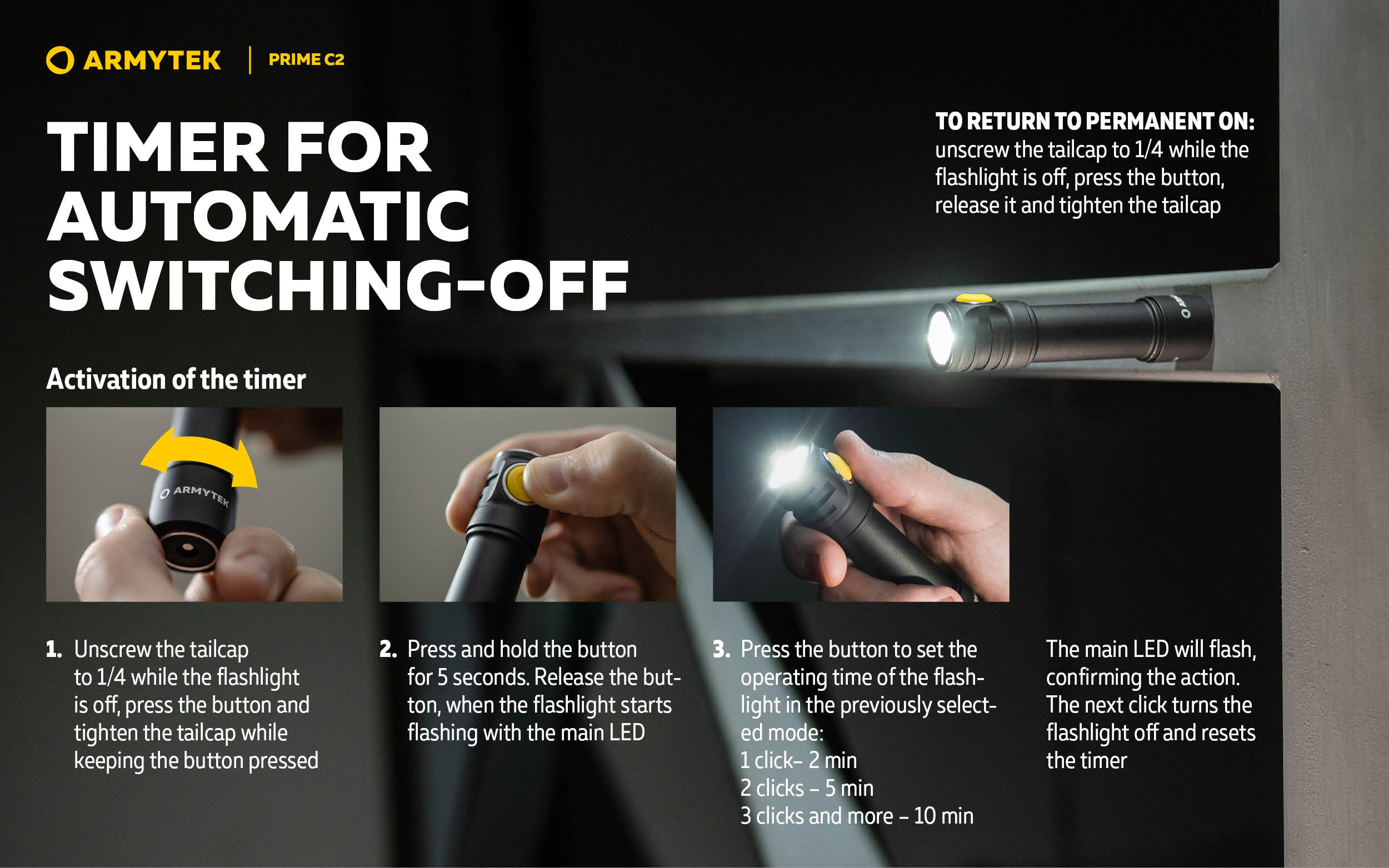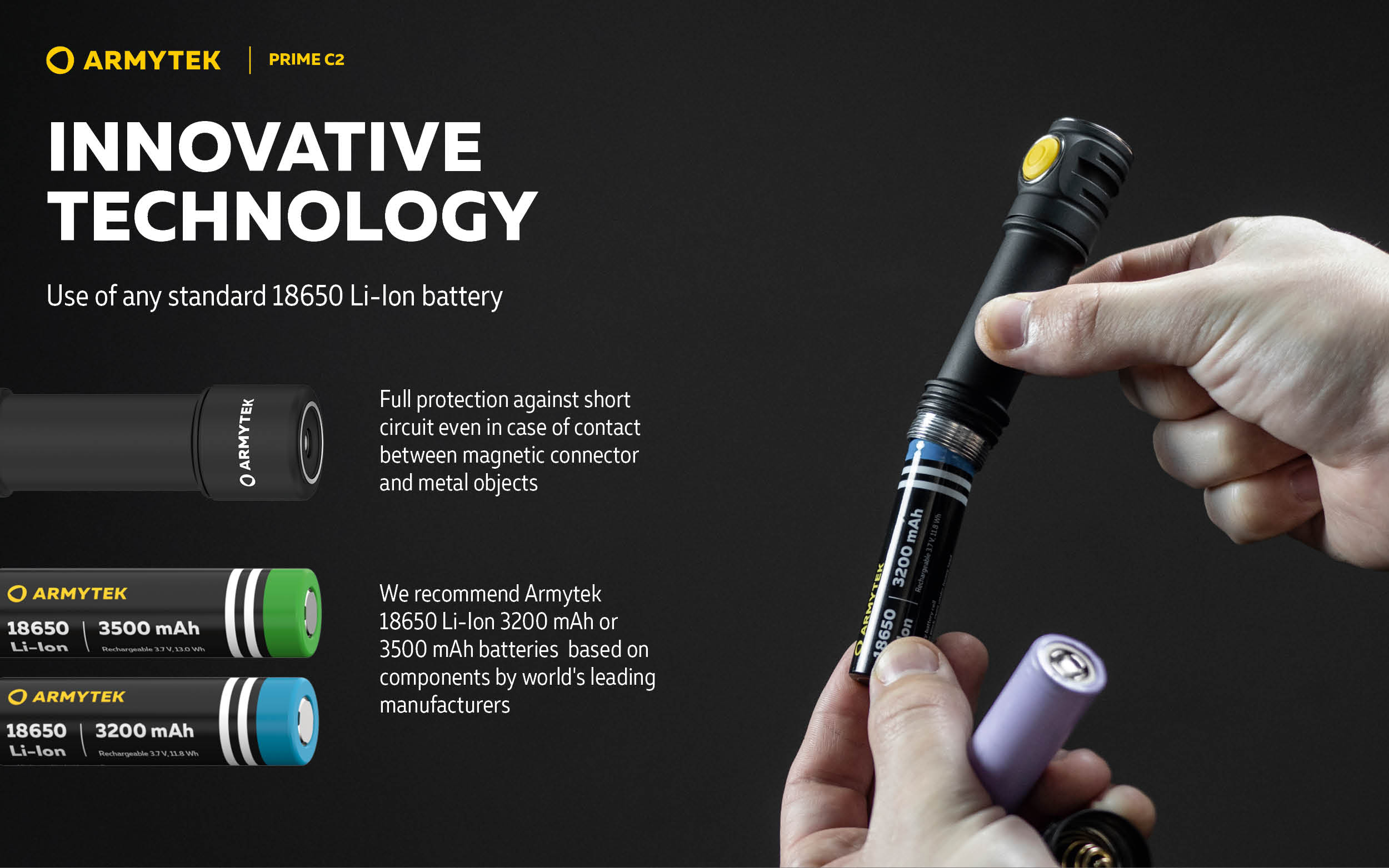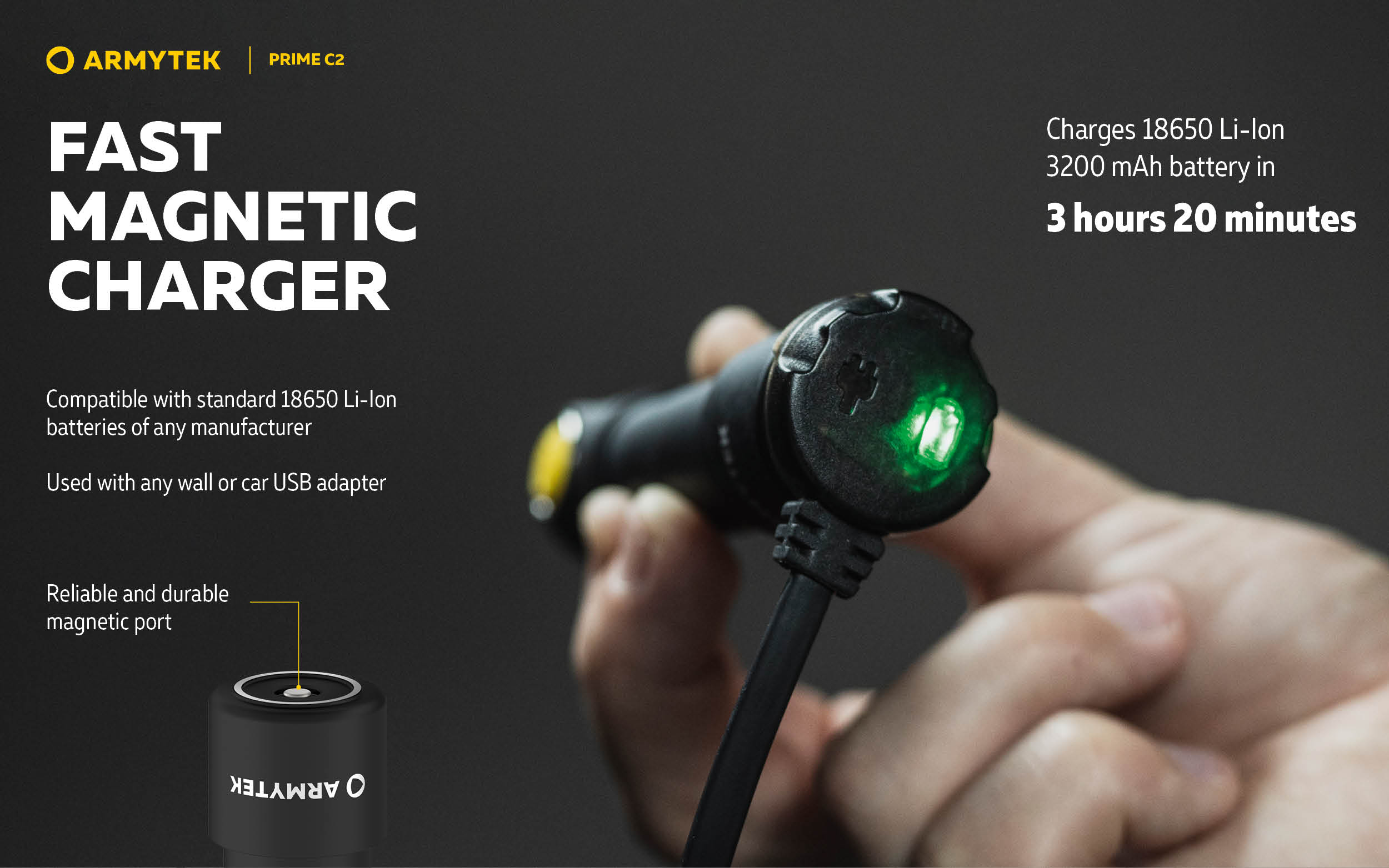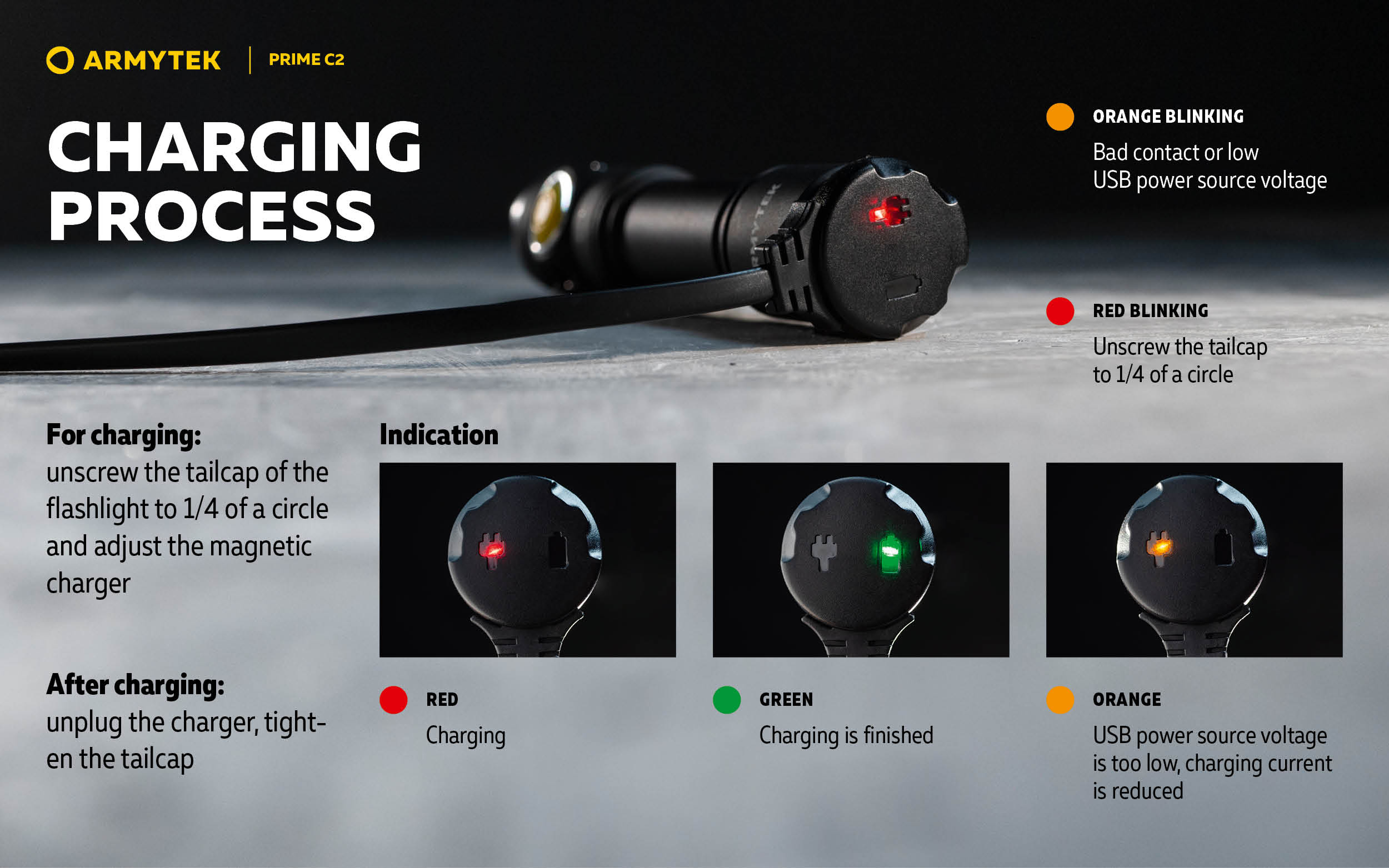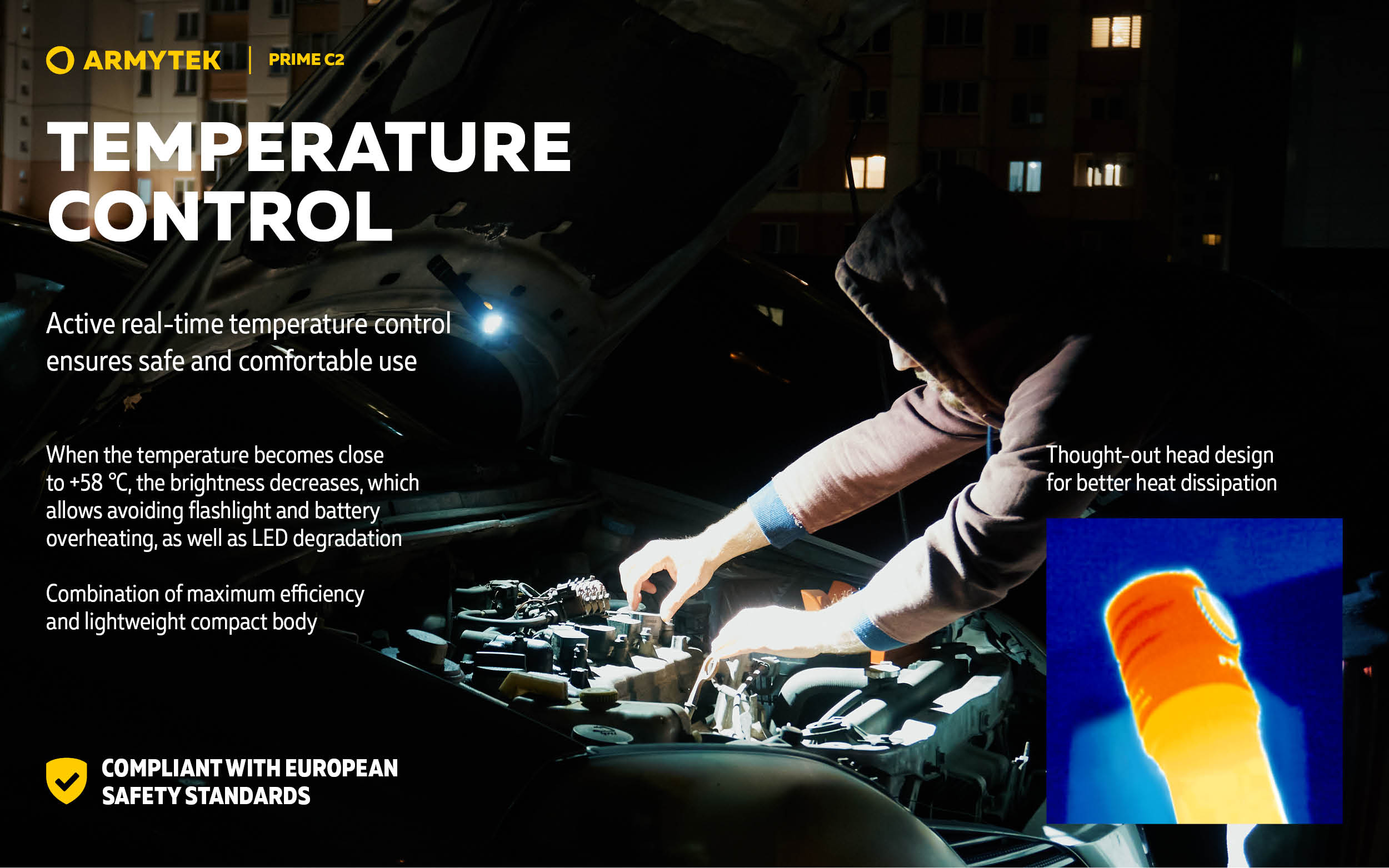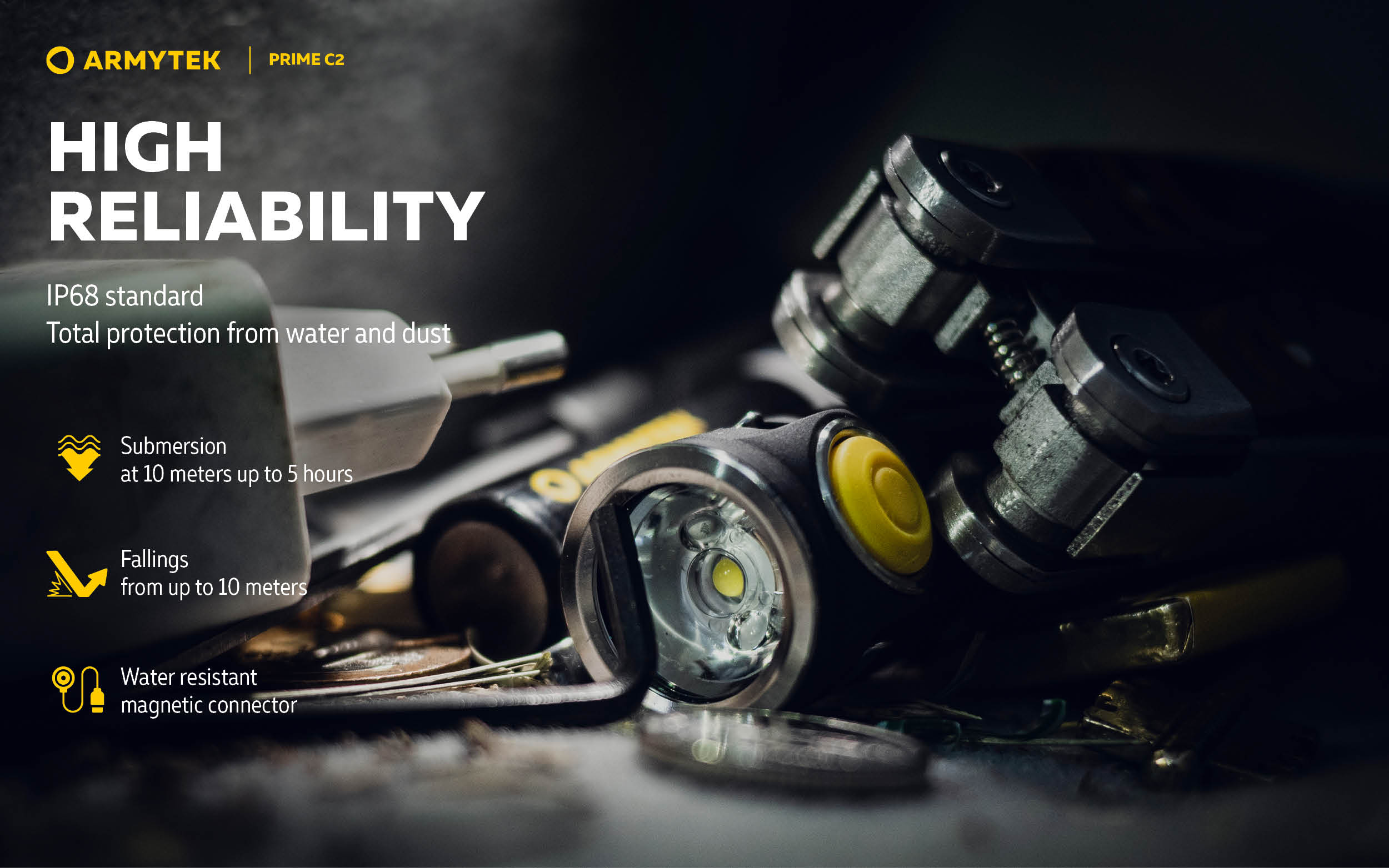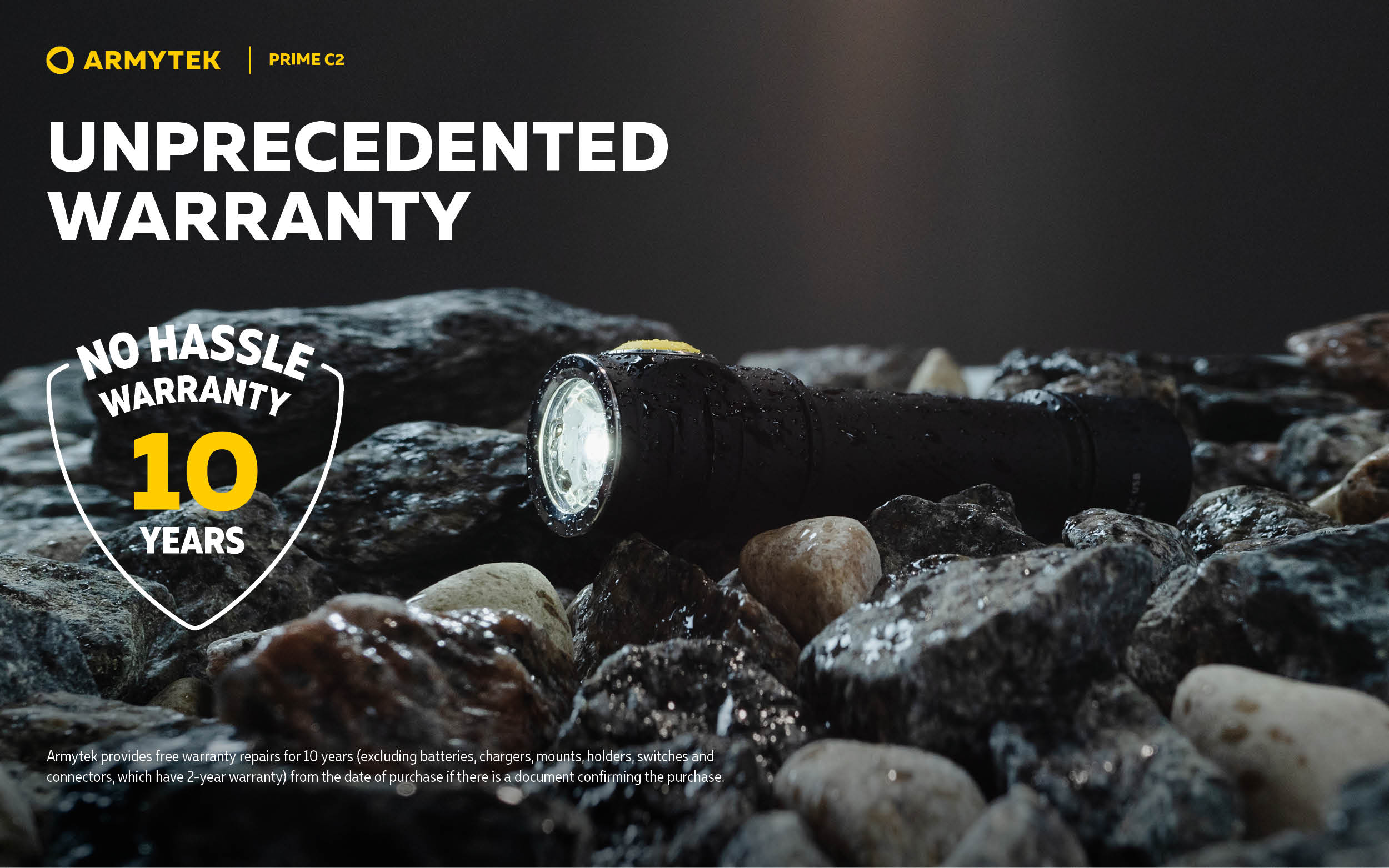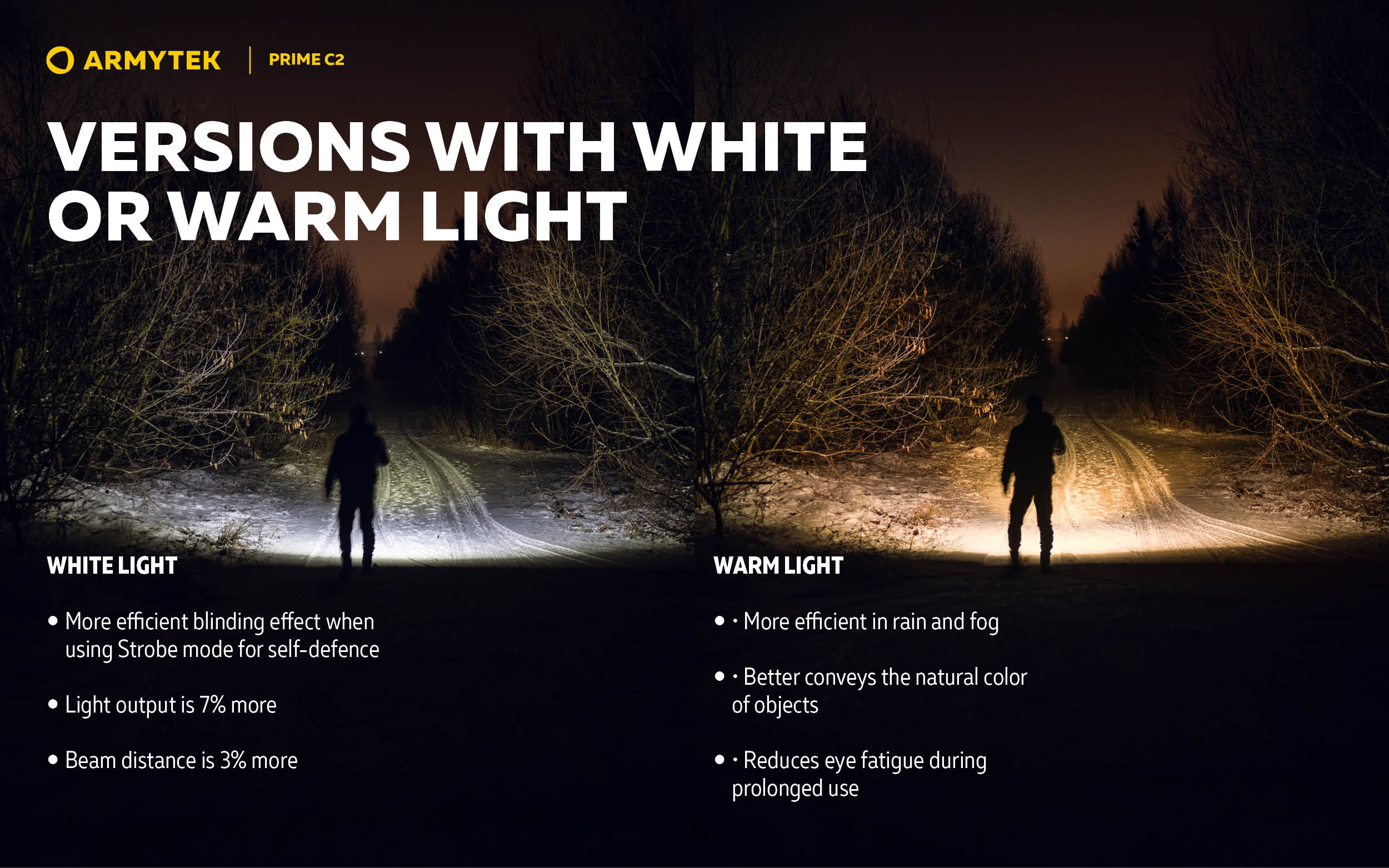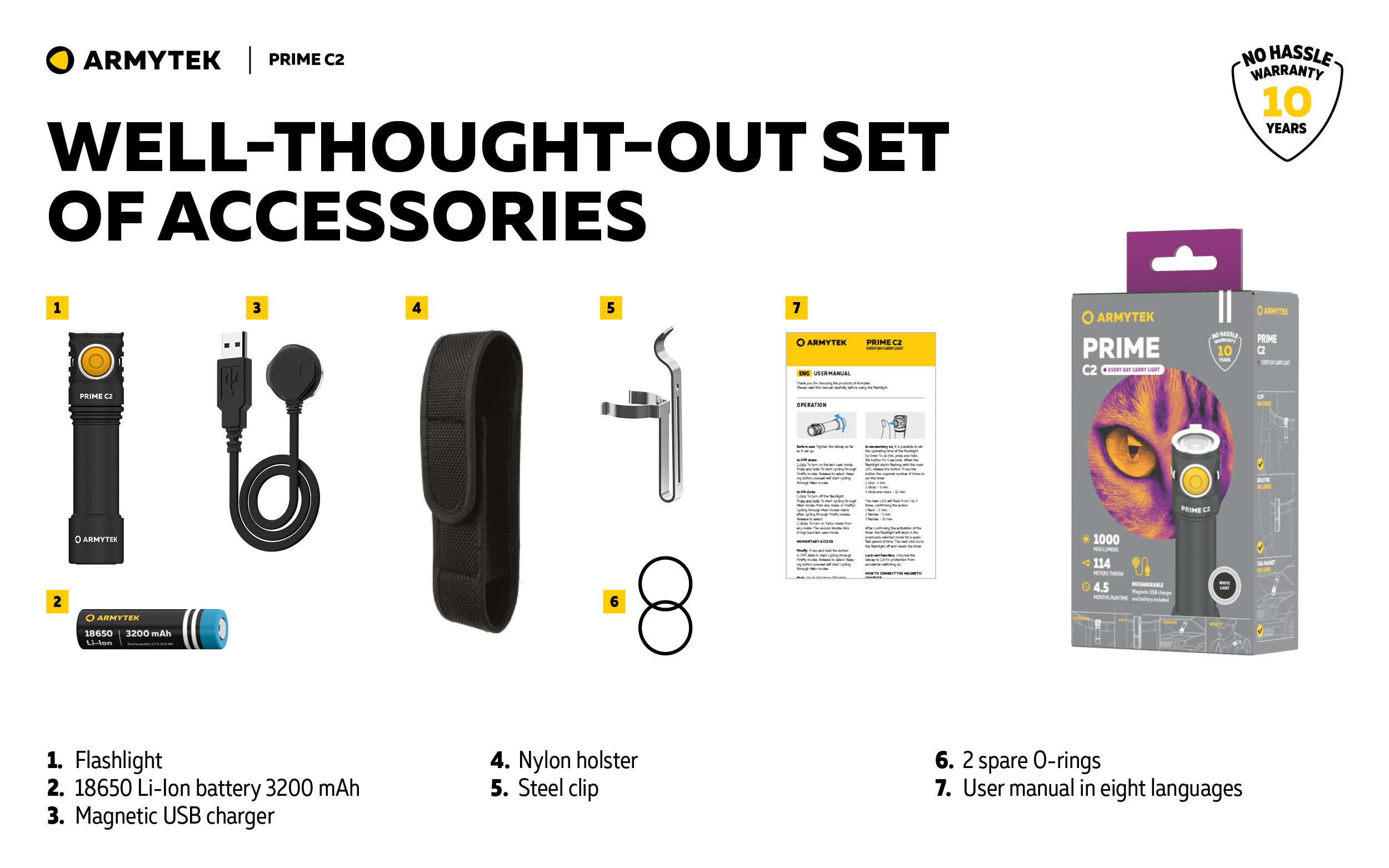 Every Day Carry light with large hotspot and simple operation
Prime C2 is a flashlight for those who utilize a basic set of modes in everyday application. Optimal brightness, intuitive operation, as well as included and optional accessories make the new product of the Prime series an indispensable main or additional light source on an evening walk, during overnight camping or at home.
A reliable nylon holster allows fixing the flashlight to the belt and protects the housing from scratches during storage and transportation. Prime C2 can also be placed inside a car and used for malfunction diagnostics or as an additional trunk light: all one needs is to fix the flashlight on a metal surface. In addition to that, due to its compatibility with the original bicycle mount, Prime C2 is installed on any bike for use as a bicycle light.
Prime C2 — 2 in 1 flashlight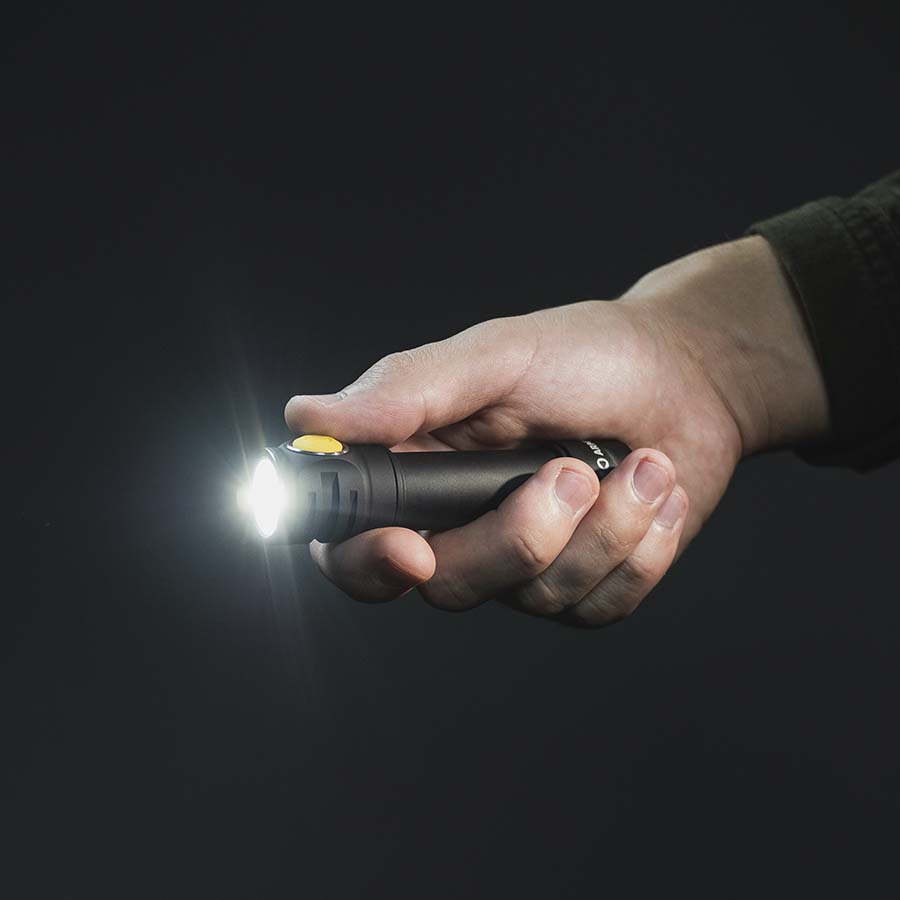 EVERY DAY CARRY
Compact design, convenient side button, special matt anti-abrasive finish without rough knurling
Durable nylon holster, robust removable steel clip and strong built-in tail magnet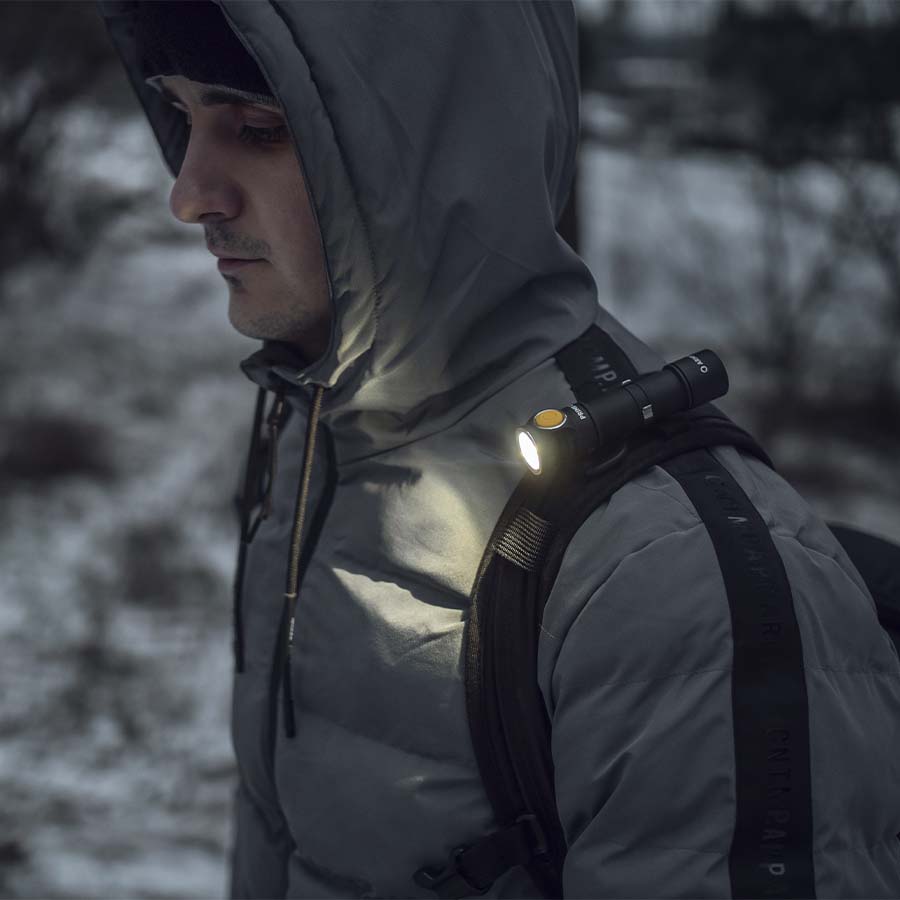 SPORTS FLASHLIGHT
Body made from durable and lightweight aircraft-grade aluminium
Improved shock resistance, constant light without flickering
Multiple variants of installation, optional accessories for mounting on sporting gear
DELIBERATE DESIGN
Large side button: soft and comfortable pressing.
Intelligent charging algorithm: safe current to extend battery life. The included 18650 Li-Ion 3200 mAh battery is charged in 3 h 20 min.
Innovated electronics: combination of high brightness and prolonged runtimes.
Simple operation: 6 modes, easy to use right out of the box.
Active real-time temperature control: ensures safe and comfortable use. When the temperature becomes close to +58 °C, the brightness decreases, which allows avoiding flashlight and battery overheating, as well as LED degradation. Compliant with European safety standards.
Steel bezel: additional protection of the optical system.
Stylish body: matt anodizing and laconic design.
Ready-to-use solution: 18650 Li-ion 3200 mAh battery and fast magnetic USB charger included.
Well-thought-out set of accessories
Clip
Removable stainless steel clip has two options for installation on the flashlight, provides a reliable mounting on clothing, belt or bag, as well as deep fit on the pocket.
Holster
Nylon holster with several fixing options: on a belt of any width, on equipment thanks to durable ring.
Magnet
Powerful built-in magnet in the tailcap is for attachment to any metal surface.
ADVANTAGES OF PRIME C2
Possibility to set the timer for automatic switching-off
Convenient wide beam with large hotspot, fully upgraded optical system, TIR-lens is protected from scratches by tempered glass with anti-reflective coating.
Innovative technology allows using any standard 18650 Li-Ion battery. Full protection against short circuit even in case of contact between magnetic connector and metal objects.
Active real-time temperature control to prevent overheating above +58 °C and warning indication of low battery level.
Total protection from water, dirt and dust in accordance with IP68 standard — flashlight continues to work even after submersion at 10 meters depth. Withstands fallings from up to 10 meters.
Robust and water resistant magnetic connector.
No hassle warranty 10 years.
18650 Li-Ion battery (3200 mAh) is included in the set.
Light & Optics
Brightness stabilization type

The completely new second-generation driver S-Tek™ enables the flashlight to emit bright and constant light even when the battery 18650 Li-Ion is almost discharged.

:
Digital (CPU brightness control)
Modes
Runtime in maximum mode:
4 h (420 lm after 2 min)
Runtime in minimum mode:
140 d
Dimensions & Weight
Weight (without battery):
Body
Material

Our flashlights have a strong, difficult to break body made of aircraft-grade aluminum and developed for a minimum weight with sufficient durability. Premium type III hard anodizing 400HV.

:
Aircraft-grade aluminium
Anti-abrasive finish

Our flashlights have a strong, difficult to break body made of aircraft-grade aluminum and developed for a minimum weight with sufficient durability. Premium type III hard anodizing 400HV.

:
Premium type III hard anodizing 400HV
Waterproof and dustproof standard
Water resistance standard: IP68 (the highest). Metric profile thread provides tight parts attachment.
An addiional O-ring increases glass sealing, and well as an extra L-ring of a specific shape.
:
IP68
Electronics
Battery compatibility:
1x18650 Li-Ion
Ability to use batteries with PCB:
Ability to use batteries without PCB:
Protection from accidental switch-on:
Color battery state indication:
Indication of low battery level: