Armytek NyoGel 760G 10 ml
During the everyday operation when you switch the modes and tighten / loosen flashlight parts, O-rings and threads undergo friction and wear out. That is why special thread grease was developed to maintain top conditions of the flashlight and prolong its life. The best choice for use with flashlights is thick silicone O-ring grease (thread grease) Nyogel 760G. This thread grease is very sluggish and doesn't dissolve in most liquids as water, methanol etc. Besides it reserves these characteristics in wide temperature range.
The other reason to lubricate all threads and O-rings with silicon thread grease is its water resistant characteristics. All Armytek flashlights are submersible up to 50 meters depth and can be used as lights for diving and spearfishing. Thread grease improves the water resistance of our flashlights and also enhances other features - eases mode switching and saves threads from wearing out. Flashlight grease can definitely prolong lifetime for threads in your device and provide your with better and most reliable performance.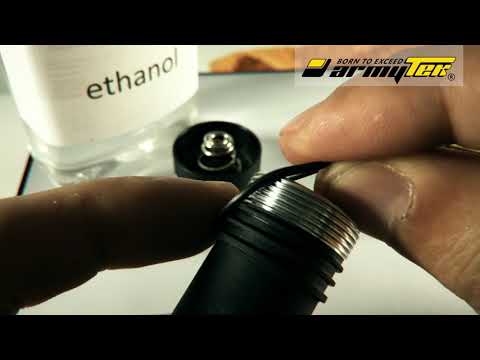 Richtige Pflege der Taschenlampen von Armytek
Es wird empfohlen, die Gewinde und Dichtungsringe der Laterne 1-2 Mal pro Jahr von Schmutz und Altfett zu reinigen. Denken Sie daran, dass ein zuverlässiger Schutz der Lampe vor Wasser und Staub nicht durch verschlissene und alte Dichtungen gewährleistet werden kann. Verschmutzung und mangelnde Schmierung führen zu einer schnellen Beschädigung der Dichtungen und Gewinde. So reinigen Sie die Gewinde:

Schrauben Sie die hintere Abdeckung ab und entfernen Sie den Dichtungsring, indem Sie ihn vorsichtig mit einem Zahnstocher aufnehmen. (Durch spitze Metallgegenstände kann der Ring beschädigt werden).
Wischen Sie den O-Ring mit einem weichen Tuch (Papier auch kann verwendet werden) gründlich ohne Lösungsmittel ab. Wenn der O-Ring verschlissen oder beschädigt ist, muss er durch einen neuen ersetzt werden.
Reinigen Sie den Metallfaden mit einer Bürste mit Ethylalkohol. Es ist jedoch darauf zu achten, dass die zum Reinigen der Fäden verwendete Flüssigkeit (Alkohol) nicht in die Lampe oder die hintere Abdeckung gelangt. Das kann zu einer Fehlfunktion der Lampe führen. Nach Abschluss der Reinigung sollten die Gewinde und der O-Ring an Ort und Stelle mit einem Gleitmittel auf Silikonpolyalphaolefin-Basis, z. B. Nyogel 760G, neu geschmiert werden. Die Verwendung von Kfz- und anderen ungeeigneten Schmiermitteln kann Schwellungen und Schäden an den Dichtungen verursachen. Bei aktivem Betrieb oder Betrieb in besonders staubigen Umgebungen wird empfohlen, bei Bedarf zu reinigen und zu schmieren.