Armytek Wizard Pro Magnet USB (warm light)

Amazingly powerful multi-flashlight Cree XHP50, 1675 OTF lm brightness powered by only one 18650 Li-Ion battery
Rechargeable flashlight with magnet USB charger
Multi-flashlight "10 in 1" is for many activities: car, fishing, hunting, home, work, city, picnic, bike, outdoor, travel
Efficient TIR-optics and no "tunnel vision" effect even after continuous use
Warning Indication of low battery level and real-time temperature control
Side switch for comfortable one-hand operation and easy modes switching with advanced operation
Multicolor State Indication and ultra low current drain in OFF-state – more than 25 years
Solid body without long wires, weak rubber connectors and unnecessary boxes
Magnet in the tailcap, removable clip and possibility of tail-stand for multipurpose use
Total protection from water, dirt and dust penetration – flashlight continues to work even at the depth of 10 meters
Battery is included in the package.
*The engraving on the flashlight may differ from the engraving on the image depending on the flashlight version.
Light & Optics
Optics

The reflectors of Armytek flashlights have been modeled and calculated in computer software for the design of optical systems that enabled to produce a flawless light beam for a long-range distances. Flashlights with TIR optics provide smooth wide beam without distinct hotspot and sharp edges.

:
TIR-optics
Brightness stabilization type

The completely new second-generation driver S-Tek™ enables the flashlight to emit bright and constant light even when the battery 18650 Li-Ion is almost discharged.

:
FULL (constant brightness)
Dimensions & Weight
Weight (without battery):
Modes & Electronics
Power source:
1x18650 Li-Ion
Runtime for maximal mode:
1h
Runtime for minimal mode:
200 days
Ability to use batteries with a flat contact:
Protection from accidental switch-on: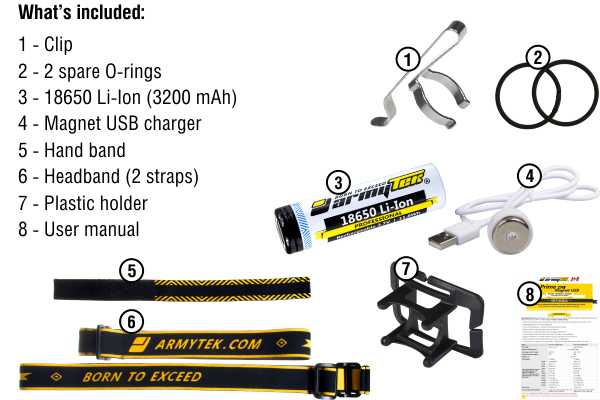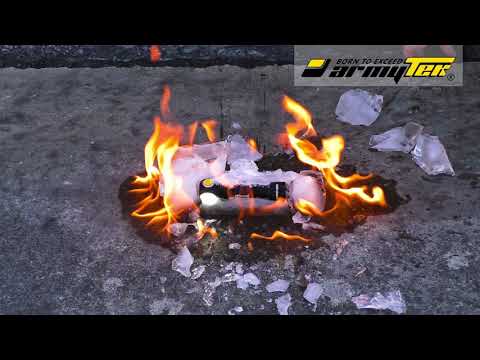 Wir haben den Armytek Wizard mit Feuer, Wasser, Eis getestet und fuhren sogar mit dem Auto
Was denken Sie, hat Armytek Wizard mit dem Test ausreichend zurechtgekommen?
Bedienung der Taschenlampe Armytek Wizard Pro Magnet USB
Im Video wird Wechsel zwischen den Leuchtstufen der Stablampe Armytek Wizard Pro Magnet USB ausführlich gezeigt