Armytek Tiara C1 Pro Magnet USB XP-L Warm

Superb light of amazing brightness due to powerful electronics.
Rechargeable flashlight with magnet USB charger.
Efficient TIR-optics and no "tunnel vision" effect even after continuous use
Multicolor State Indication and ultra low current drain in OFF-state –more than 25 years
Multi-flashlight "10 in 1" is for many activities: car, fishing, hunting, home, work, city, picnic, bike, outdoor, travel.
Total protection from water, dirt and dust penetration – flashlight continues to work even at the depth of 10 meters.
Battery is included in the package.
*The engraving on the flashlight may differ from the engraving on the image depending on the flashlight version.
Light & Optics
Optics

The reflectors of Armytek flashlights have been modeled and calculated in computer software for the design of optical systems that enabled to produce a flawless light beam for a long-range distances. Flashlights with TIR optics provide smooth wide beam without distinct hotspot and sharp edges.

:
TIR-optics
Brightness stabilization type

The completely new second-generation driver S-Tek™ enables the flashlight to emit bright and constant light even when the battery 18650 Li-Ion is almost discharged.

:
FULL (constant brightness)
Modes
Runtime in maximum mode:
30min
Runtime in minimum mode:
60 days
Dimensions & Weight
Weight (without battery):
Electronics
Battery compatibility:
1x18350 Li-Ion
Ability to use batteries without PCB:
Protection from accidental switch-on:
Color battery state indication:
Indication of low battery level: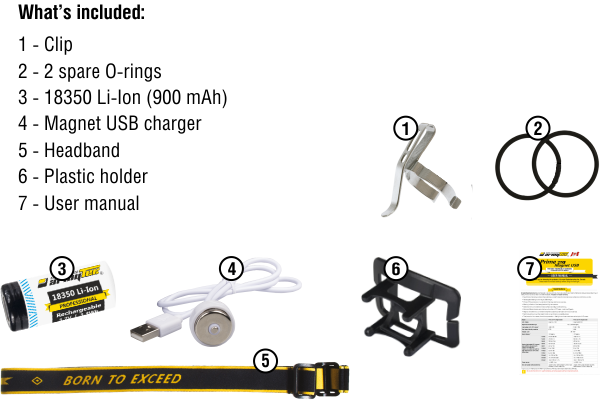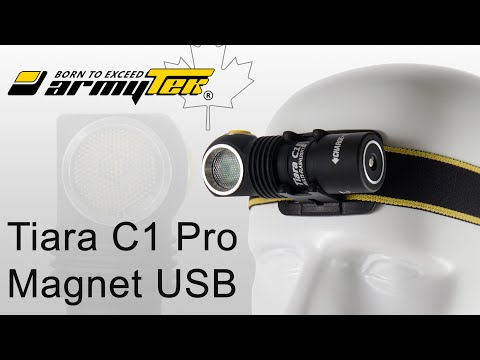 Armytek Tiara C1 Pro Magnet USB Videovorschau
Kompakte, multifunktionale Stirnlampe ist das alles über Armytek Tiara C1 Pro Magnet USB.
Die Taschenlampe braucht nur einen Akku 18350 Li-Ion und ist mit einem USB-Kabel leicht wiederaufladbar. Magnet auf hinterer Kappe, geeignete Stirnhalterung, abnehmbarer Halteclip, mögliche vertikale Montage schenken ihrem Besitzer ein wirkliches Verwendungsvergnügen in unterschiedlichen Situationen.