Armytek Elf C1 Micro-USB XP-L White

Rechargeable flashlight with popular Micro-USB socket
Solid body without long wires, weak rubber connectors and unnecessary boxes
Multi-flashlight "10 in 1" has magnet in the tailcap, removable clip, headmount and possibility of tail-stand for many activities: outdoor, fishing, work etc.
Multicolor State Indication and ultra low current drain in OFF-state for 25 years
Active real-time temperature control and warning indication of low battery level
Total protection from water, dirt and dust penetration – flashlight continues to work even at the depth of 10 meters
Battery is included in the package.
*The engraving on the flashlight may differ from the engraving on the image depending on the flashlight version.
Modes
Runtime in maximum mode:
40 min
Runtime in minimum mode:
54 days
Dimensions & Weight
Weight (without battery):
Electronics
Battery compatibility:
1x18350 Li-Ion
Ability to use batteries with PCB:
Ability to use batteries without PCB:
Protection from accidental switch-on:
Color battery state indication:
Indication of low battery level: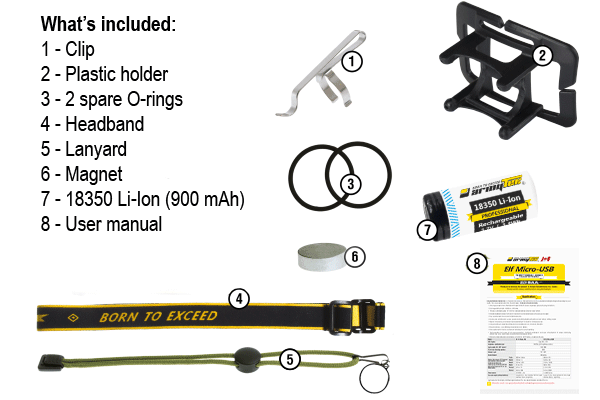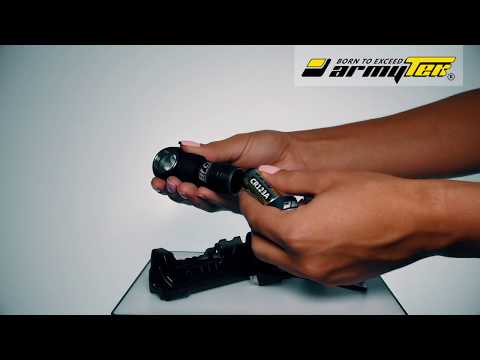 Armytek Elf C1 funktioniert auch ohne Akku
Wenn Sie eine leere Batterie haben oder ein Akku verloren haben, gibt es einen Ausweg. Armytek ELF C1 funktioniert ohne Akku von der Powerbank oder über ein Micro-USB-Kabel aus dem Netzwerk. In dem Video haben wir als Powerbank ein Armytek Handy C1-Ladegerät und einen Armytek 18650 Li-Ion-Akku verwendet.